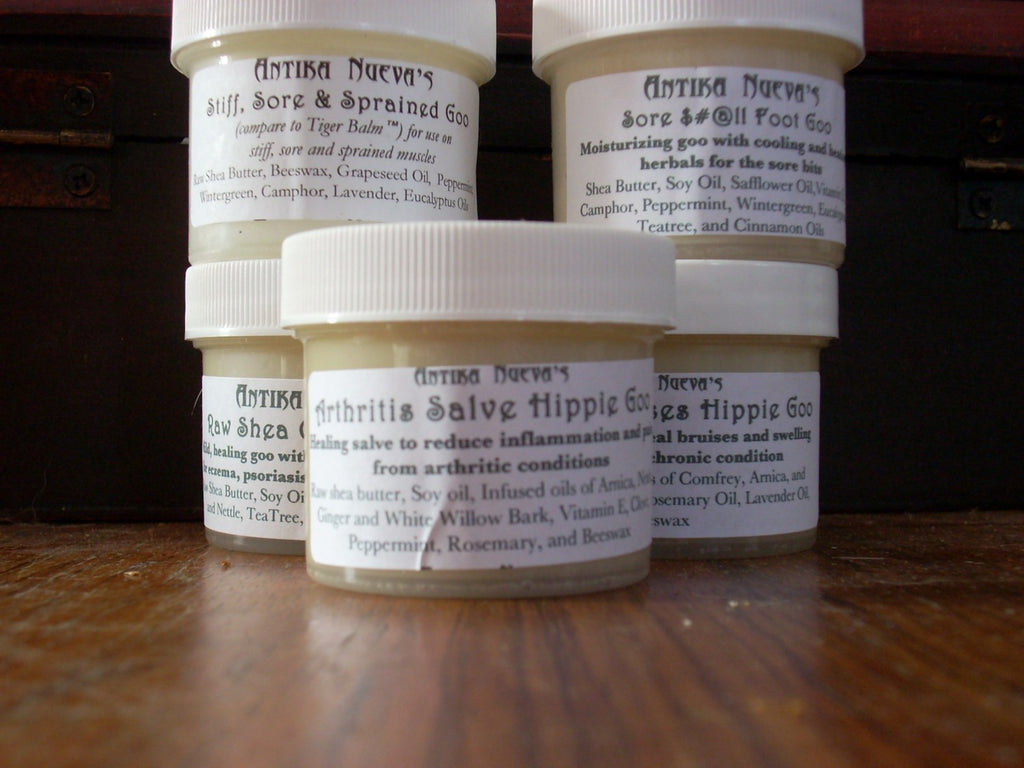 Antika Nueva
Bug Goo
Rich shea-butter base solid lotion. Like all the goos, a little goes a long way--a 2 oz. jar should coat an adult head to toe for about 2 months. It's organic, it's relatively soft; in hot weather it will melt and go liquid. Just stick it in the fridge.

Every Goo Has A Story:

 
A few years ago, heading off to another Ren fair amongst the mosquitoes and blackflies, I was suddenly fed up with the idea of smearing more chemical reek on my skin --since sunblock is nonoptional when you're as pasty as I am--and started researching herbal bug repellents.   Thus Bug Stuff was born.  I spent four weeks testing it at the Vermont Renaissance Festival (if you got within ten feet of my booth, you got smeared) and had no adverse allergic reactions, and overwhelmingly favorable reviews!   It's safe enough to use on children and pets (although my cats were not overwhelmingly thrilled with it) and a 2 oz jar is enough to keep a family of four for a  summer.

USES:

Keeps off mosquitoes and horseflies and everything EXCEPT TICKS.   There is nothing herbal on earth that keeps ticks off you-- so if you're like me, and don't react well to DEET, spray the DEET on the clothing and put the bug goo on YOU.

CONTENTS:

Raw shea butter, Soy oil, Infused oil of nettle, rosemary, cedar, citronella, teatree, eucalyptus.
---
Share this Product
---
More from this collection